13 Jun

Hope For The Warriors partners with Brad Keselowski's Checkered Flag Foundation and Brad Keselowski Racing to honor local military caregivers during Gateway NASCAR Truck Series race
Hope For The Warriors partners with Brad Keselowski's Checkered Flag Foundation and Brad Keselowski Racing to honor local military caregivers during Gateway NASCAR Truck Series race
The names of Cindy and Michael Smith and Melody and Christopher Slusher will adorn the No. 19 and No. 29 of Austin Cindric and Chase Briscoe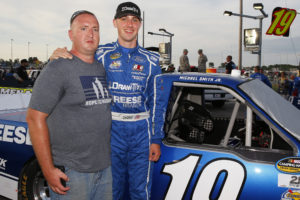 CHARLOTTE, N.C. (June 13, 2017) – Hope For The Warriors will partner with Brad Keselowski's Checkered Flag Foundation (BKCFF) and Brad Keselowski Racing (BKR) during this weekend's NASCAR Camping World Truck Series (NCWTS) race at Gateway Motorsports Park to honor two local military caregivers. The effort will replace the names of BKR drivers Austin Cindric and Chase Briscoe over the doors of their trucks with the names of two military caregivers and their veterans for the Drivin' For Linemen 200 on Saturday night. St. Louis area natives Cindy and Michael Smith, and Melody and Christopher Slusher were selected to be honored on the No. 19 and No. 29, respectively.
"We are proud to partner with BKCFF and BKR in this incredible opportunity to highlight these caregivers and bring attention to military caregivers across the country,"  said Robin Kelleher, co-founder and president for Hope For The Warriors.   "Nearly 1.1 million Americans care for wounded, ill and injured military service members and veterans of the post-9/11 era, this is part of the total 5.5 million American military caregivers nationwide. These 'hidden heroes' include parents, spouses, children, extended family members, friends and battle buddies. They often face significant challenges of their own, such as scattered resources, isolation, poor health and emotional stress, which makes events like this and bringing recognition to this sector of the military population even more important."
Hope For The Warriors, a national nonprofit dedicated to restoring self, family and hope for service members, veterans and military families, is active in NASCAR through their Drive For Hope program. The organization has found that their mission aligns closely with that of Brad Keselowski's Checkered Flag Foundation, which honors and assists those who have sacrificed greatly for our country. Together, the two have joined forces to help veterans secure free orthodontic work, assist transitioning service members, and now, honor military caregivers.
"Brad [Keselowski] often says 'The price of freedom isn't free,'" said Suzanne Boyd, executive director of Brad Keselowski's Checkered Flag Foundation. "At BKCFF, we recognize that the sacrifice made by our military members doesn't stop there. It extends to family and friends, who are often thrust into the role of 'caregiver' at a moment's notice. We are honored to host these two veterans and family members and to highlight the very special role that their caregivers play."
The organizations are working together to bring recognition to military caregivers to compliment the NASCAR Salutes initiative, which is an industry-wide effort devoted to saluting the men and women who have served our country. Events to recognize members of our Armed Services are planned for Memorial Day through Independence Day.
Caregivers take on the role and responsibility of not only caring for themselves and their families, but also providing physical care and/or emotional support to a wounded warrior. They can include spouses, parents, children, partners, siblings or friends. Cindy Smith and Melody Slusher are just two examples of the individuals that make up this community.
Cindy Smith met her veteran, Michael Smith, Jr., over 25 years ago. They went on their first date on January 30, 2010, and were married just 18 months later on June 17, 2011. With Michael sustaining injuries from an IED explosion in Iraq in 2004, Cindy has been his caregiver their entire relationship. As the saying goes, she 'knew what she was getting into,' but Cindy hasn't ever regretted a minute of their relationship.
Since Chris Slusher was seriously injured in Iraq in 2003, Melody has been both his wife and his caregiver. Together, they've spent several years advocating and working to make the path to civilian life an easier transition for the veterans and military families coming after them. Chris works with other veterans in his community, while Melody advocates for veterans and their caregivers within her community and beyond. A veteran herself, Melody is currently enrolled in law school with plans to help veterans when she graduates, and aspirations to eventually run for Congress.
The Smith and Slusher families will be at-track at Gateway Motorsport Park on Saturday afternoon. They will be given a tour of the NCWTS garage and pit areas, have a private meet and greet with the BKR drivers, attend the drivers meeting, and experience the pre-race ceremonies from pit road before watching the race from atop the BKR pit boxes.
To learn more about Hope For The Warriors or find out how you can get involved, visit HopeForTheWarriors.org. Additionally, you can support Hope For The Warriors and its various programs by making a gift online, by phone at 877-246-7349, or by mail to 8003 Forbes Place, Ste. 201, Springfield, VA 22151.
###
About Hope For The Warriors: 
Founded in 2006, Hope For The Warriors is a national nonprofit dedicated to restoring a sense of self, family and hope for post 9/11 veterans, service members and military families. Since its inception, Hope For The Warriors has served more than 13,000 through a variety of support programs focused on transition, health and wellness, peer engagement and connections to community resources. The nonprofit's first program, A Warrior's Wish, has granted 165 wishes to fulfill a desire for a better quality of life or support a quest for gratifying endeavors. In addition, Run For The Warriors has captured the hearts of more than 22,000 since 2010. For more information, visit HopeForTheWarriors.org, Facebook or Twitter.
Hope For The Warriors® (Federal Tax ID 20-5182295) is a 501(c)(3) tax-exempt charity as defined in sections 509(A)(1) and 170(B)(1)(A)(VI) of the Internal Revenue Code. Combined Federal Campaign, CFC #27800. 
About Brad Keselowski's Checkered Flag Foundation:
Brad Keselowski's Checkered Flag Foundation honors and assists those who have sacrificed greatly for our country. Since 2010, the foundation has supported over 50 organizations and individuals in order to help veterans and first responders during their road to recovery. There are numerous ways for those interested to become involved. Visit CheckeredFlagFoundation.org for details
About Brad Keselowski Racing:
Based in Statesville, North Carolina and led by Monster Energy NASCAR Cup Series and NASCAR XFINITY Series champion Brad Keselowski, Brad Keselowski Racing fields the No. 19 and the No. 29 Fords in the NASCAR Camping World Truck Series. With the aim to provide young talented drivers the opportunity to improve their skills with a professional, competitive team, BKR has partnered with the Ford Performance driver development program.