05 Sep

Hope For The Warriors supports military children through backpack initiative at Richmond Raceway
Hope For The Warriors supports military children through backpack initiative at Richmond Raceway
National nonprofit joins forces with Food Lion, Frito-Lay and Motor Racing Outreach to provide military children with backpacks filled with food and school supplies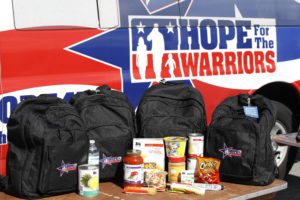 RICHMOND, Va. (September 5, 2017) – Hope For The Warriors is partnering with Food Lion, Frito-Lay and Motor Racing Outreach (MRO) during this weekend's NASCAR race at Richmond Raceway to stuff and distribute backpacks to military children. The effort will produce 100 backpacks filled with school supplies, nonperishable food items and Food Lion gift cards to be used on fresh fruits, vegetables, and meats. On Saturday afternoon, active duty service members and their families from Marine Corps Base Quantico, Va., the U.S. Army Combined Arms Support Command at Fort Lee, Va., and Joint Base Henderson Hall in Arlington, Va., as well as Virginia-based retired service members and their families from the Department of the Navy, United States Marine Corps, United States Army and United States Air Force will report to the track to receive the backpacks before enjoying the Monster Energy NASCAR Cup Series race.
"This incredible collaboration with our partners to provide for our military families and help the issue of childhood hunger is fundamental to our holistic care model," said Robin Kelleher, co-founder, and CEO of Hope For The Warriors. "An estimated 23,000 active-duty military households across the country receive SNAP food stamps benefits, as do 1.5 million veterans. These statistics represent a lot of children at risk if their parents cannot put food on the table through their military pay or veteran benefits. With the help of Food Lion, Frito-Lay and Motor Racing Outreach, we're grateful that Hope For The Warriors will be able to make a difference in the lives of 100 children this weekend."
With military families often being young families with several children, Hope For The Warriors has found a demand for assistance when it comes to providing for their families over long-weekends and school breaks when their children are not on the breakfast and lunch programs provided through their schools. The backpacks being assembled at Richmond Raceway will look to alleviate those strains on military families by providing assistance with food items and school supplies.
Each backpack will contain a gift card from Food Lion, as well as products donated by Frito-Lay, in addition to other nonperishable food items and school supplies. Children will also be able to pick a book donated to Hope For The Warriors from Houghton Mifflin Harcourt Publishing. Motor Racing Outreach is providing space and volunteers for the backpack assembly and distribution at their community center at Richmond Raceway.
The families receiving the backpacks will be invited to the MRO Community Center to pick-up the backpacks from 2:30-3:30 p.m. ET on Saturday afternoon. In addition to the backpacks, the families will also receive tickets for Saturday night's Monster Energy NASCAR Cup Series race.
Hope For The Warriors will be at Richmond Raceway as part of the organization's Drive For Hope program, which invites service members and veterans to attend NASCAR events. A multifaceted program, the Drive For Hope program looks to highlight the many similarities between the NASCAR industry and military culture, including their nomadic nature and constant state of transition. Drive For Hope attendees have an opportunity to learn about prospective careers within the industry and understand how their skills from the military can translate into the civilian sector, while also experiencing a behind-the-scenes look at the sport.
To learn more about Hope For The Warriors or find out how you can get involved, visit HopeForTheWarriors.org. Additionally, you can support Hope For The Warriors and its various programs by making a gift online, by phone at 877-246-7349, or by mail to 8003 Forbes Place, Ste. 201, Springfield, VA 22151.
###
About Hope For The Warriors: 
Founded in 2006, Hope For The Warriors is a national nonprofit dedicated to restoring a sense of self, family and hope for post 9/11 veterans, service members and military families. Since its inception, Hope For The Warriors has served more than 13,000 through a variety of support programs focused on transition, health and wellness, peer engagement and connections to community resources. The nonprofit's first program, A Warrior's Wish, has granted 165 wishes to fulfill a desire for a better quality of life or support a quest for gratifying endeavors. In addition, Run For The Warriors has captured the hearts of more than 22,000 since 2010. For more information, visit HopeForTheWarriors.org, Facebook or Twitter.
Hope For The Warriors® (Federal Tax ID 20-5182295) is a 501(c)(3) tax-exempt charity as defined in sections 509(A)(1) and 170(B)(1)(A)(VI) of the Internal Revenue Code.  Combined Federal Campaign, CFC #27800.