16 Jan

Jimmy Weller: Coming Full Circle
Jimmy Weller: Coming Full Circle
Situation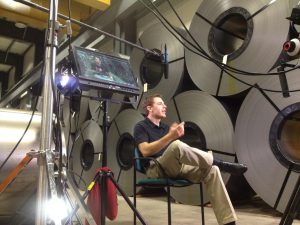 On October 13, 2004, Jimmy Weller sustained what should have been a career-ending injury while competing in a United States Auto Club Sprint Car race at The Dirt Track at Charlotte Motor Speedway. After his car hit a rut, Weller's car flipped caught the catch fence and left the 18-year-old dangling lifelessly in the cockpit. The accident left Weller with a five-percent chance to live through the night. He not only made it the night but went on to make a full recovery and even climb back in the cockpit of a racecar.
Nearly 10 years after that fateful night, Weller found himself racing across the street at Charlotte Motor Speedway in the NASCAR Camping World Truck Series (NCWTS).
Challenge
Racing part-time with only 10 NCWTS races on his calendar that year, A2B Strategies faced the challenge of telling the story of Weller's miraculous recovery, while facing the uphill challenge of acquiring media for a relatively unknown part-time driver in NASCAR's third-tier series.
Result
Well-timed pitching along with a heartfelt angle allowed Jimmy Weller's story to be told on a national platform. With countless media hits, including a feature on FOX Sports and a full-page story in USA Today, millions of people were exposed to Weller's faithful comeback tale. With an increase in public interest, Weller was able to launch a motivational speaking career, while his mom, Ronnie Weller, was able to publish a book about her experiences through her son's accident and recovery.
Read More
USA Today: Jimmy Weller back at full speed after terrible crash
FOX Sports: Feature: Jimmy Weller Returns